November 2022 Meeting Minutes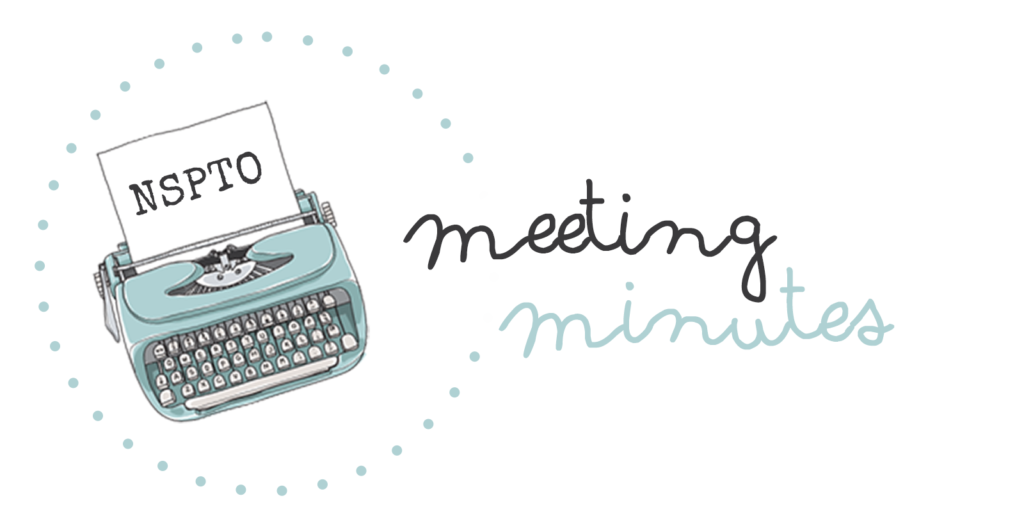 ATTENDEES
Rob Cillino, Dawn G, Rosanne S, Sally T, Breeze F, Kelly G, Jeffrey W,  Kristen St. G, Melanie H, Christopher B, Danielle S, Jessie A, Missy D, Megan S, Melissa B, Tessa W, Amy L, Sherrie M, Amanda B, Meghan L, Leah C, Nicole W, Katie K, Jill C
WELCOME
ADMIN
Mr. Hopkins explained three school goals, which include for everyone to feel safe and valued, welcoming innovation, and remembering that we are all learners, even adults. Communication is also important. He reported that the BOE formed committees to focus on the goals. The NSPTO received a new space with the help of himself and Mr. Carlson. A copier will be moved to the new NSPTO space. Two students will join the BOE starting tomorrow as non-voting members. They will contribute in other ways. There are some major education discussion topics in the state, including state-approved reading programs. We are already using one of the five included programs. The state also mandated new Special Education software. It is not working well so far, but it is still in development. He is attending a State Educator meeting (CABE?? CADE?? Look up) . He is attempting to visit each teacher, and is really impressed with all he has seen so far. The children are happy and receiving quality education. He discussed the flyer approval process.
Mr. Cillino said picture day went well, and the pictures will be in soon. The 6th grade did a Ropes Course, which they enjoyed very much. It was a great team building activity. He thanked the PTO for helping with funds. EB has a program that works with children, and they came in with a virtual welding device which the students got to use. The program will return with other options in the future. Thanks to Mrs. Gabriel for that. Mrs. Servidio has been chosen to receive training as an Invention Convention Master Teacher. Grade three made some fun art projects, pictures will go home through email. Parent teacher conferences went well. Thanks to the teachers and parents. The STEM team is planning a STEM week in January, and they've received a grant. Drama Club and Homework Club are going well. There will be a Talent Show on December 2nd. 
Mrs. St. Germain said the conferences went well. She thanked everyone. Preston students came to visit the school and will have the option to become paid students. The school also hosted a college admission night to help parents with the FAFSA process. The volleyball team made it to the finals and played in the state tournament. The support from the families and town was amazing. All of the student athletes are doing amazing. The school had an open mic night which went well. Winter sports started. Middle school sports nights is tomorrow, 11/16. Please make sure your children are registered if they'd like to play. Two students, John A and Madison W, will sit with the BOE beginning tomorrow. We have two students who will dance in the Nutcracker at the Garde Arts, and the school hopes to take students to support them. 
Mrs. Tavaras thanked the PTO for supporting the students who are going to London. The Wheeler Drama club is doing two plays this year. One will be coming Friday and Saturday of this weekend. Tickets are $5 in advance, $10 at the door ($8 for seniors). She encouraged everyone to come support the students. 
Ms. Gonzalez reported that the cast list will be reported tomorrow. She is very excited to get started. 
Ms. Costa reported that students made habitat dioramas, which are available for other students to view. She said the STEM committee is going well. They are collecting resources to distribute to teachers. She thanked the PTO for their support with the Ropes Courses. She also thanked Mr. Hopkins for his support. 
Treasurer's Report
The starting balance for October was $27,796.02.  After income and expenses, our projected ending balance (as of 11/15) was $26,744.92.  
A motion was made, seconded, and approved to accept the report.
November Minutes
A motion was made, seconded, and approved to accept the November meeting minutes.
Request and Review
None
OLD BUSINESS  
The Halloween Float was awesome. Thank you to everyone, especially Hailie and Greg D. It was fun.
Fall Fest went well. It was well attended. We look forward to next year. 
Butter braids pick up went well. We didn't have as many sales as usual, so we might need to revisit this fundraiser. 
The opt-out fundraiser at Wheeler went well. We made ~$350.00. General discussion. 
The StepitUp kick-off went well. We extended it by one day. 175 "Golden ticket" rewards went out today, which is ~54% participation. If anyone has concerns, let us know. General discussion.
NEW BUSINESS 
The Holiday Sale planning is going well. It will be the 5th – 9th. We need more tags. Volunteers are needed. We are reverting to the old pricing, which is in the range of $1-5. Some new things are in the works, including poly bags. General discussion. 
COMMENTS & QUESTIONS
Meeting location general discussion.  
The meeting was adjourned at 8:05 pm.